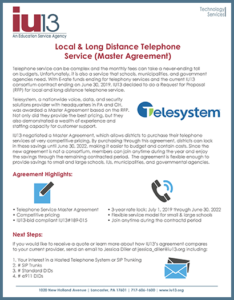 Lancaster-Lebanon Intermediate Unit 13 offers a bid compliant, consortium based program for the procurement of telephony services, specifically for the purchase of SIP trunks to use with Microsoft Lync or other IP PBX systems. The program is intended to drive down telephony costs and provide additional collaborative opportunities. Lancaster-Lebanon IU13 is the lead agency and has awarded a three-year contract to the successful vendor. There is a fee and calendar deadlines for participation in this program.
Additional details and benefits of using this program include:
Rates which have been competitively bid.
Proven cost savings.
SIP trunks can be connected directly to a telephone system or they can be attached to a gateway with a PRI or other type of handoff to an existing telephone system.
Domestic long distance is included, thereby eliminating additional long distance services.
CPS provides program oversight and additional customer service as needed.
To request additional information or to participate in this program, please contact: collaborativeservices@iu13.org