CPS offers a marketplace contract for Office Supplies.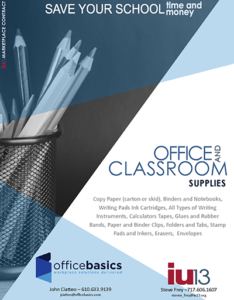 Marketplace Contract


CPS Regional Marketplace Contracts allow public procurement units the opportunity to utilize exclusive agreements which are bid compliant and offer competitive pricing for both products and services. CPS has partnered with Office Basics to offer an office supplies procurement program containing both a core list of products and a general catalog with thousands of items.
The program offers discounts on all types of office supplies and paper.
Program Products
Copy Paper (carton or skid)
Binders and Notebooks
Writing Pads
Ink Cartridges
Writing Instruments (Pens, Markers, Dry Erase, Highlighters, Pencils)
Tapes, Glues and Rubber Bands
Paper and Binder Clips
Folders and Tabs
Envelopes
Contract Information
Pricing: Negotiated pricing is available on our online catalog via B2B site or CPS shopping page.
Support: Local technical and customer support.
Delivery: Free, next day, just-in-time shipping on all orders
Contract Number
IU13 – 004-080
Please reference the contract number on all orders to ensure proper discount
To Place an Order
Phone: 1-800-541-5855
Email: jciatteo@officebasics.com
Online Catalog: B2B
CPS Marketplace: click here
"We have worked for many years with the staff of Office Basics. They have always been friendly and accommodating with any request that we may need. Delivery and satisfaction is achieved in a very timely manner".
To request additional information or to participate in this program, including the promo code to receive discounts, please contact: collaborativeservices@iu13.org