CPS offers a marketplace contract for Environmental Services
Marketplace Contract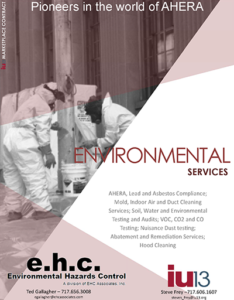 CPS Regional Marketplace Contracts allow public procurement units the opportunity to utilize exclusive agreements which are bid compliant and offer competitive pricing for both products and services. CPS has partnered with EHC Associates to offer an Environmental Services Program that offers discounted pricing and value added services.
The program is designed as a "one stop" shop for the purchase of all types of environmental services necessary to maintain facilities and be in compliance with current regulations and applicable laws.
Value added benefits of using this program include:
Vendor is fully licensed and insured.
Access to technical resources and expertise.
Educational seminars upon request.
CPS provides program oversight and additional customer service as needed.
Services offered include, but are not limited to the following:
AHERA Compliance
Asbestos Compliance
Mold, Indoor Air and Duct Cleaning Services
Lead Compliance
Soil, Water and Environmental Testing and Audits
VOC, CO2 and CO Testing
Nuisance Dust Testing
Abatement and Remediation Services
To request additional information or to participate in this program, please contact:  collaborativeservices@iu13.org