Environmental Hazard Recycling Services
CPS offers a marketplace contract for Environmental Hazard Recycling Services
Marketplace Contract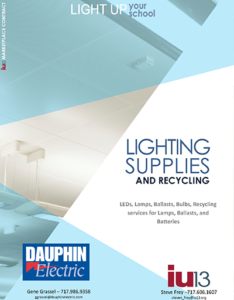 CPS Regional Marketplace Contracts allow public procurement units the opportunity to utilize exclusive agreements which are bid compliant and offer competitive pricing for both products and services. CPS has partnered with Dauphin Electric to offer an Environmental Hazard and Recycling Service.
The program offers competitive rates on the recycling of lamps, ballasts and batteries. Value added benefits of using this program include:
Environmental and compliant disposal of lamps, bulbs and batteries.
Vendor is fully licensed and insured.
Local technical support backed by the resources of a national company.
CPS provides program oversight and additional customer service as needed.
"Recycling fluorescent tubes has never been easier than or as cost effective as the CPS program.  THANK YOU!"
To request additional information or to participate in this program, please contact:  collaborativeservices@iu13.org