Computers and Technology Supplies
STATEWIDE HARDWARE PROGRAM
Marketplace Contract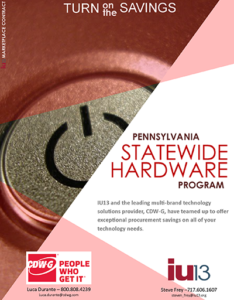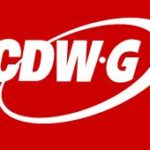 Lancaster-Lebanon Intermediate Unit 13 (IU13) has partnered with CDW-G to offer a PA Statewide Hardware Program, designed for public agencies to provide procurement cost savings, consistent products and quality service. The program is designed as a "one stop" shop for the purchase of all types of technology hardware.
Program Products
– Computers
– Tablets
– Hardware
– Projectors
– Accessories
– Printers
Contract Information
Pricing:  Negotiated pricing is available on our online catalog via B2B site or CPS shopping page.
Support: Local technical and customer support backed by the resources of a national company.
Delivery: Free, just-in-time shipping on all orders
Contract Number
IU13 – 003-032/006-064
Please reference the contract number on all orders to ensure proper discount
To Place an Order
Phone: 800-808-4239
Email: Luca.durante@cdwg.com
Online Catalog: B2B
CPS Marketplace: click here
For additional information, please contact: collaborativeservices@iu13.org