Cafeteria and Smallwares Supplies
CPS offers a marketplace contract for Cafeteria and Smallwares Supplies.
Marketplace Contract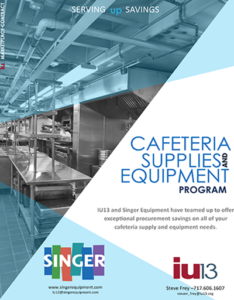 CPS Regional Marketplace Contracts allow public procurement units the opportunity to utilize exclusive agreements which are bid compliant and offer competitive pricing for both products and services. CPS has partnered with Singer Equipment Company to offer a Cafeteria Supplies and Equipment procurement program.
Program Products
– Cafeteria Paper
– Small wares
– Disposables
– Display and Serving
– Food Storage
– Cookware
– Utensils
– Equipment
– And More!
Contract Information
Pricing:  Negotiated price structure ensures quality products at competitive prices.
Support: Local technical and customer support backed by the resources of a national company.
Delivery: Free, just-in-time shipping on all orders over $500
Contract Number
IU13 – 036-005
Please reference the contract number on all orders to ensure proper discount
To Place an Order or Receive a Quote
Phone: Andrew Beauchamp – 800-422-8126 x457
Email: IU13@singerequipment.com
Online Catalog: B2B