Cafeteria and Smallwares Supplies
CPS offers a catalog discount and line item bid, and marketplace contract for Cafeteria and Smallwares Supplies.
Marketplace Contract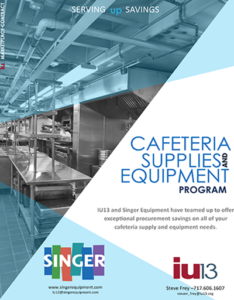 CPS Regional Marketplace Contracts allow public procurement units the opportunity to utilize exclusive agreements which are bid compliant and offer competitive pricing for both products and services. CPS has partnered with Singer Equipment Company to offer a Cafeteria Supplies and Equipment procurement program.
Program Products
– Cafeteria Paper
– Small wares
– Disposables
– Display and Serving
– Food Storage
– Cookware
– Utensils
– Equipment
– And More!
Contract Information
Pricing:  Negotiated price structure ensures quality products at competitive prices.
Support: Local technical and customer support backed by the resources of a national company.
Delivery: Free, just-in-time shipping on all orders over $500
Contract Number
IU13 – 036-005
Please reference the contract number on all orders to ensure proper discount
To Place an Order or Receive a Quote
Phone: Andrew Beauchamp – 800-422-8126 x457
Email: IU13@singerequipment.com
Online Catalog: B2B
Catalog Discount Bid
The bi-annual catalog discount bid offers hundreds of products which can be purchased from numerous catalogs each with their own discounted pricing and terms. As the lead agency, Lancaster-Lebanon Intermediate Unit 13 awards the bids to the lowest priced qualified vendors who meet the bid specifications. All compliance documentation can be found on the CPS Contracts and Compliance page.
Interboro Packaging Corporation

114 Bracken Road, Montgomery, NY 12549
Contract Number
178-013
Contract Term
July 1, 2018 - June 30, 2020
Discount
50% on everything
Shipping
Included in price
Vendor Contact
interboro@frontiernet.net
Order Placement or Status
interboro@frontiernet.net
Type of Payment Accepted
Purchase order, Credit card, EFT

NASCO

901 Janesville Ave, Fort Atkinson, WI 53538
www.enasco.com
Contract Number
178-013 / 38344
Contract Term
July 1, 2018 - June 30, 2020
Discount
15%
Shipping
Free except for live material or items with a truck logo
Vendor Contact
quotes@enasco.com
Order Placement or Status
orders@enasco.com
Type of Payment Accepted
Purchase order, Credit card, EFT